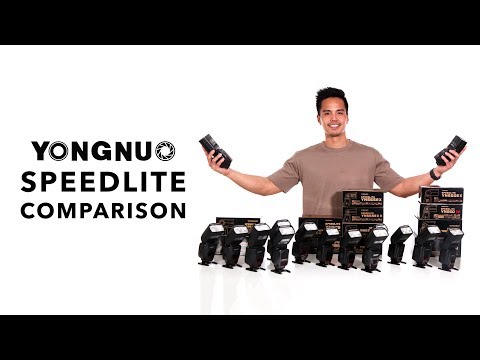 File Name: Yongnuo Speedlite Flash Comparison Guide
Duration: 14.31
View:: 26.012
Published:
Uploader: Hypop
In this video we go through and compare the current range of Yongnuo Speedlite Flashes Speedlite Flashes including the YN600EX-RT II, YN660, YN560 IV, YN685, YN860Li and more!
The Yongnuo flash range can be confusing with so many models on the market, so we break down their current range into three separate groups which are:
- Manual Flashes - Universal and compatible with most cameras
- TTL Flashes - Compatible with Canon and Nikon only
- Canon RT Flashes - Compatible with Canon only
We have several models not shown in the video including:
- YN968N - Nikon full i-TTL flash with LED light
- YN660 - Manual Flash with GN60
- YN585EX-P - Pentax P-TTL Flash
- the latest versions of the YN565EX for Canon and Nikon (Mark III)
- older Yongnuo model flashes
Flashes we discuss in the video include:
YN560 IV, YN560-EX, YN860Li, YN720, YN565EX II / Canon, YN565EX II / Nikon, YN568EX III / Canon, YN568EX III / Nikon, YN685C, YN685N, YN600EX-RT, YN600EX-RT II, YN686EX-RT and YN968EX-RT.
For more information on Yongnuo Speedlites, visit here:
https://goo.gl/X9EFh9
View our entire range of Yongnuo products online here:
https://goo.gl/vEy8DS
View our blog post and the compatibility chart on the Yongnuo Speedlite Flashes here:
https://goo.gl/bUofbr
Follow us on Social Media
Facebook -
https://www.facebook.com/hypop
Instagram -
https://www.instagram.com/h...