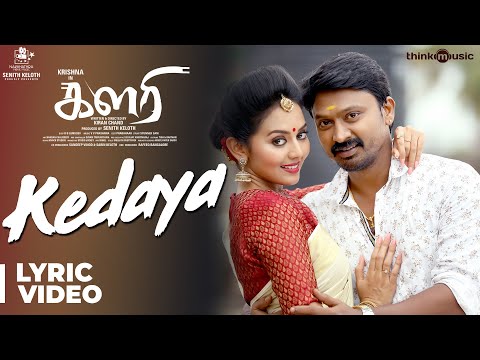 File Name: Kalari | Kedaya Song with Lyrics | Krishna, Vidya Pradeep | VV Prassanna | Kiran Chand
Duration: 3.47
View:: 582.815
Published: 12 Mar 2018
Uploader: Think Music India
#KedayaSong | #Kalari is a 2018 Indian Tamil-language film written and directed by Kiran Chand. Produced by Senith Keloth under banner Nakshathra Movie Magic. Music composed by VV Prassanna.
Song: Kedaya
Singers: VV Prassanna, Vaishaali
Lyricist: Muthuvijayan
Music Composer: VV Prassanna
Musician Credits:
Keys: Anoop R Nair, Nawfal, Shivam, Goldsmith
Sound Engineers: Manirathnam, Abin Paul, Rajesh Kannan & Dil
Instruments:
Rhythm: Krishna Kishore, Kiran & Nagasubramanium
Mandolin / Santhoor / Banjo: Seenu
Bass Guitar / Merlin Guitar: Mani
Lead / Distortion Guitar: Josh Markraj
Flute: Nathan & Vishnu
Trumpet: Irudhayaraj Babu
Violin: M.S. Ananthakrishnan
Veena: Haritha Raj
Mixing & Mastering By Abin Paul
Studio: Tapas, Sdad & 2 Keys
Strings: Raja Ravi, Seenu
#Kalari Tamil Movie Crew:
Cast : Krishna, Vidya Pradeep and others
Banner : Nakshathra Movie Magic
Producer : Senith Keloth
Executive Producer : Rafeeq
Direction : Kiran Chand
Music : VV Prassanna
Cinematography : R.B. Gurudev
Stunt : Stunner Sam
Editor : Prabahaar
Art : Nandan Chalissery
Mixing : Knack Studios
Stills : Sreejith Chettipadi
Costume : Tina & Bakthan
PRO : Nikkil
PRO : Controller Shyam Tripunithura
Designs : White Paper Sarov
Audio Label : Think Music
© 2018 SPI Music Pvt. Ltd.
For All Latest Updates:
Subscribe to us on:
http://www.youtube.com/thin...
Subscribe to us on:
http://www.dailymotion.com/...
Follow us on:
https://twitter.com/thinkmu...
Like us on:
https://www.facebook.com/Th...
Follow us on:
https://plus.google.com/+th...
Follow us on:
https://www.instagram.com/t...